Well, it's the end of another year; time to close the books on 2008. Another year come and (almost) gone; another year of my life has whooshed by at the speed of light.
I've learned so much this year...about life, myself and about art; about what I'm truly capable of, emotionally and creatively.
I have been happy and joyous and I've felt lost and mourned for things and people lost; I've reached some goals and I've lost out on reaching others (for the time being); I've loved and I have been loved; I've learned the true power and freedom of the word "NO"; I've began learning how to be my true self without apologies.
I have been helpful to those I can help and I have been helped by those who had the ability and desire to help me; I've seen sunrises and sunsets, easy days and tough ones, stormy times and calm waters; I've learned to let go and play and that it's not just okay but it's fabulously wonderful to be a kid again.
In this year I have aged and grown and learned.
It has truly been a year.
But now we are on the cusp of a brand new year, bright and shining, just waiting to bestow every good and precious gift upon us, there for the taking. Nothing is impossible; it is all within our reach...all our hopes and dreams are there...
In the New Year.
No resolutions for me, goals maybe but no resolutions...they only serve to get broken. Goals are for me to strive for, whereas resolutions are difinitive lines drawn in the sand and they only make me feel like a failure when I don't succeed at them. Goals are much more fruitful.
May your 2009 be full of all things bright and beautiful and full of joy for you.
Until next time, next year...Happy Creating!!!
With Much Peace & Love,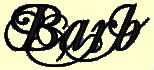 Be sure to subscribe so you
Don't miss a crafty thing!