I'm really working hard to get everything ready to give my first workshop - "Visual Journaling-Creatively Savoring the Journey"  YAY!
I have a to-do list I'm systematically working my way through…outline, handouts, securing an appropriate place to have the workshop, setting prices, a supply list, and on and on.  But I'm working through it all, one step at a time.
I really don't believe I would have ever had the nerve to step up to the plate and make this dream of mine come true without the wonderful support and kind words you've each left me here.  All of the great hints and ideas you've sent me, the gentle pushes to just "Do it!", and just how much of a feeling of love and support I've gotten from all of you.  Thank you so much.
Thrillingly, I got word last night that there are another two younger women who want to sign up for the workshop.  They heard about it through another woman I know that is adamant she is going to be first to sign up and is so excited about it…she's seen my journals and wants to learn the techniques.  Now her daughter and one of her daughter's friends want to come, too.
I also received an email from a dear blog reader who is in the Huntsville, Alabama area that would like to attend…unfortunately, Huntsville is two hours away.  *sigh* I wish we were closer, Kathi, but you never know what the future holds.  Maybe, if there is enough interest in your area, we could set up a weekend workshop in the Huntsville area?  That would be awesome! 
Otherwise, I'm still trying to create small pieces for my own house and a few for my Art Fire Shop, too.  It's taking me longer than I want to actually get my shop up and running but everything in its own time, right?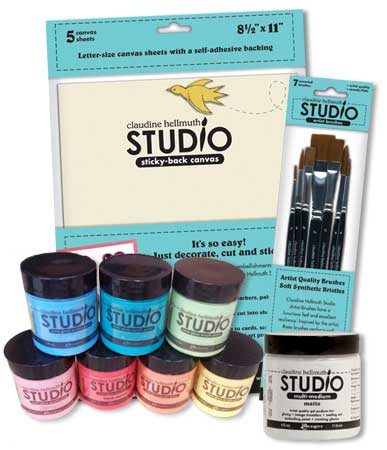 I did get some AWESOME new supplies and books in the mail this week!  I've been so excited about Claudine Hellmuth's Studio line of products and finally received my box of goodies from the fabulous Nona Designs.  I have loved playing with all my new paints (they really are great!), my sticky-back canvas is up next, and her brushes are awesome, too!  If you buy nothing else, the multi-medium is the best gel medium I've ever used (better than Golden's, in my opinion)…grab some of the matte and try it.  You'll never want to use any other!
New books in my art library include "Vision Chronicles" by Linda Woods and Karen Denino, "True Vision" by L.K. Ludwig, and "The Decorated Journal" by Gwen Diehn.  The first two are both absolute musts for any art journalist who is learning more about the art…the latter, well, I am not so excited about it.  I haven't counted it out completely, yet, but I am withholding true judgment as of yet…hoping that I just looked it over at a bad time for me. 
My library of art related books, especially Art Journaling, is growing by leaps and bounds…and I am soaking them in like crazy!  I even wound up with two copies of the Jan/Feb 2009 Cloth, Paper, Scissors magazine (and have no idea how that happened!)  Anyone need a copy?
Okay…not enough sleep last night so I'm going to nap before I head back into the studio to work on some of my goodies I have going.
Hope your weekend is going great!
Peace & Love,