It seems like most of my creativity lately has been in doing Holiday gifts. I am taking two art classes online but have had to push them to the side to complete my holiday gifts on time (and I hate missing my assignments!)
I haven't talked a trenendous amount about my family here but I have a wonderful husband, two grown daughters (19 & 21), an unbelievable soon-to-be son-in-law that I adore, a great 13 y/o step-son and a beautiful 4 y/o grandson.
Doing Holiday gifts for everyone in the family is pretty easy (I've done a bracelet for my oldest daughter, a necklace for my youngest daughter, a tshirt for our son-in-law, a jacket for the grandboy, a collage for the hubby) but my step-son, as wonderful as he is, can be tough. Chad has autism. He is high functioning and goes to regular school but there is no doubt that he is autistic and he has little or no wants that he conveys to us.
He loves Barney the dinosaur like you wouldn't believe. He also enjoys the computer and can spend hours browsing youtube.com for Barney videos, looking at Barney items on ebay and Amazon...anything and everything Barney. We've bought it all. He has every Barney video twice over, every Barney plush toy, talking toy, and every other thing Barney ever made...so what do you get a kid who's only wants involve Barney?
Well, if you're me, you MAKE him something Barney that he'd never find any other place. It's all we could think of to give him so that's what we settled on for Chad's big gift this year instead of some toy he'd never play with...a painting of Barney, done by me, for him to have and hang in his room.
Now, I've been working on painting pretty girls in my class with Suzi Blu so Barney is not my subject of choice personally and not something I have any experience with but there is nothing wrong with stretching our creative wings and that's what this was for me...a stretch. But I was so excited to do it.
An original Barney of his very own.
Because my oldest daughter is moving back to Arkansas tomorrow, we did our Holiday gift opening tonight and when Chad opened his Barney painting his eyes lit up like he'd just received the crown jewels! (We had no idea how he'd react...would he love it or would it just be another something thrown to the side?)
The way he smiled and stared at that painting, the way he touched each and every part of it, his fingers sliding across the smooth areas and touching on the glittery parts...his eyes wide as he soaked in every bit of that painting, there was no doubt that he loved this gift.
The hours I spent on making this Barney the very best Barney I could make him were more worth it than any other time I've ever spent creating anything. To see this wonderful boy who spends his life locked in his own little world, barely, if ever, able to communicate his most basic of human needs...to see him glow with excitement was the most joyous feelings I've felt in forever.
We all watched him as he absorbed HIS Barney and all of us had tears well up in our eyes. He just seemed so amazed.
Then his Dad told him, "Barbara painted that Barney for you, Chad" and Chad's reply? "A very special gift", then he hugged the painting and kissed Barney on the face and giggled. He loves that it has the Radio City Music Hall sign on it, too...he adores the "Barney Live in New York City" video and talks often about going to
Yaddio City Music Hall
so I had to include that in there.
It hasn't left his sight since he opened it.
We took him home later this evening and about an hour later we got a call from his mother to let us know that Chad refused to bathe without Barney watching over him from the bathroom vanity and he was now fast asleep, with Barney laying in the bed right next to him, sharing his pillow.
Now, if that doesn't tell you what an impact art can have on someone, I don't know what will.
I love knowing something I did through my art has impacted this wonderful child in such a positive way. My heart is happy.
Happy Holidays, everyone.
Until next time...Happy Creating!!!
Peace & Love,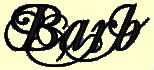 PS. I got some amazing gifts already, including a NICE gift card from my oldest daughter and grandboy to Hobby Lobby where I will be purchasing my Bind-It-All tomorrow along with a slew of other art supply goodies...and from our youngest daughter and son-in-law a TWO HOUR deep tissue MASSAGE! How awesome are those wonderful goodies? And there is more gift giving to come on christmas eve. YAY!, it's a great Holiday season already.
Be sure to subscribe so you
Don't miss a crafty thing!