Yes, I am in total and complete book heaven!!!
I won a fabulous (much lusted after) book giveaway from the wonderful
Supria
on her blog and received my terrific book in the mail today.
OMG!
Is this fantastic or what?
This awesome work of art in book form written by the ever fabulous Ricë Freeman-Zachary (and you've got to check out her blog,
Voodoo Cafe
). She is a great art/creativity writer (not to mention just how ingeniously creative she is herself) and, in addition to her books-this being her 3rd-she writes often for many of my favorite art/craft magazines.
If you don't have this book, you MUST get a copy! She is wonderful and her work is unbelievable!
Thank you, dear Supria, for answering my call of one of the most wanted items from my wishlist and thank you, Ricë, for writing such a great book, so full of creativity for me, to want and now for me to devour!
Until next time...Happy Creating!!!
Peace & Love,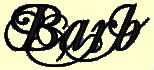 Be sure to subscribe so you
Don't miss a crafty thing!