I tend to keep everything in this blog art related for the most part.
But all of life affects our art...the way we feel in the morning when we wake up, our surroundings, our state of mind, our physical selves, our family and friends, even our choice of music can affect what we create. Sometimes our art reflects those things and sometimes our art is an escape from them.
But, in my opinion, it is really my state of mind that most affects what comes out of me creatively. My state of mind has not been great lately...I have been very stressed with so much chaos going on around me so diving deeply into my art has been my escape. It has helped me to avoid some of the stresses that plague me so deeply at this point in my life...one of those things (the main one) is my oldest daughter and her over the top, outrageous behavior. She lives with us and disrupts our entire household...but there is light at the end of the tunnel...she is moving out at the New Year.
Anyway, I tell you all that for a reason...I am working very hard to turn myself and my life around. I have a good life, don't get me wrong, but I deal with panic/anxiety disorder, depression and with an overwhelming amount of stress...I am finding ways to deal with these things and to get better.
I believe in the universe showing us what we need when we need it...it is up to us to be open enough to actually see those things as they are presented to us. I have had not one but TWO of those wonderful epiphaneous (my made up word of the day, in case you were wondering) things happen to me in the past two days and, because I know that many artists are tortured like I am, I wanted to share what I've been learning. Y'all know I am all about sharing, right? lol
First, Zen.
Being in the moment...living in the moment, period.
No focusing on the past, it's done with and nothing can be done to change what has already happened in our lives...no spending countless hours worrying about the future, worry accomplishes NOTHING...live in the moment! This moment, this very moment that I'm living in. When I create art, I leave everything else behind and nothing else matters at that moment, just me and my creation...I'm just learning to apply this to other areas of my life.
I need to be able to forget those things while I'm doing other things like cooking dinner or playing cards or vacuuming or making love with my husband....and I'm learning. Slowly but surely, I am learning. And in the process of learning, I am gaining some powerful knowledge. Really powerful stuff! A friend of mine, Connie at Dirty Footprints (check her awesome post out
HERE
), even gave me a wonderful new tool in my Zen path...Japa. Be sure to read about it...it's fabulous!
My second epiphaneous finding of the week you can see through the link at the top of my sidebar...
Be Brave
. The "Be Brave" project was inspired by the words of Eleanor Roosevelt:
Do
one
thing
every
day
that
scares
you.
It is so very empowering and something that, no matter what your place in life is right now, we can all use. The
"Be Brave Project"
...Read about it, soak it in, think about it and see if it isn't something that can help you create a better or an even better life for yourself.
It is another tool I am using in my quest to better myself and to heal.
I hope that each of you can find something here that will speak to you the way these things have spoken to me.
Until next time...Keep on Creating!!!
Peace & Love,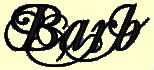 Be sure to subscribe so you
Don't miss a crafty thing!