I've been creating lately but it's all been for me, not for outside human consumption. Just creating for the sake of creating...Art for art's sake, if you will. Sometimes that just feels good...not for show or for sale, just because it's fun and it's what I like to do.
I'm really getting into art journaling. I never knew of all the creative outlets there are out there until I began really searching them out and OH MY at the wonderful things I've come across. I find myself just wanting to try everything! Altering books, collages, encaustics, art journaling, fabric mixed media (especially using quilting as a base), so many different mediums and each one is beautiful and creative and just..just wonderful!
These are a few of the journal pages I've done lately...just creative outlets for my thoughts and my art, all tied up into one.
Romance and love on one and being a tender, sensitive woman while still maintaining my autonomy and strength on another. There are tons more, just a couple that I kinda like.
I think working on my way of thinking is and probably will continue to affect and expand my mind as well as my creative side. My art changes all the time.
It's strange now that I've allowed myself to become immersed in my creative soul how often I will be doing something like folding a load of towels and *BAM*, an idea will hit me like a brick and I have to stop what I'm doing and go mix that layer of paint (or whatever the idea was) and put it on that painting I've been working on. It just amazes me that these ideas come out of me sometimes.
I'm also amazed at the work of others that I come across. Original ideas and not some canned version or mimicry of someone elses work but true original ideas and art. I love all that I'm seeing and learning and just feeling these days.
It is truly a new world to me. A world I like.
Art for art's sake.
Until next time...Happy Creating!!!
Peace & Love,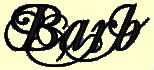 Be sure to subscribe so you
Don't miss a crafty thing!