I finally managed to finish my Pretty Girl, "Sparkles." And she does sparkle, even though the pictures don't pick it up very well. (I do have to replace a little blue star in her hair and she has to be sealed...but creatively, she's finished.)
The star she's holding is totally glistening with glitter...and the blue dots you see are a transparent pearlescent paint that you can only see when looking at her at certain directions.
Blah, blah, blah...nevermind.
Just trust me, she looks much different in person...pictures never do capture everything.
The words underneath her say "She lights up the night with sparkling stars"....since you can't read them from this angle, I thought I'd throw that in there. (Thanks for asking, Teale!)
I want to seal her with beeswax but she's big (12" x 24") and I don't have much beeswax so I may have to go with polyurethane for this one.
I dunno.
I am ready to start my next pretty girl...I already have tons of ideas for her.
Mmmm, I love creating art. It makes me feel so good and productive and freeeeeeeee.
Oh, and by the way, I haven't cut my hair....yet. LOL But the day isn't over, either.
Until next time...Happy Creating!!!
Peace & Love,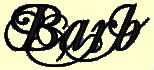 Be sure to subscribe so you
Don't miss a crafty thing!