Crafty Blog of the Day:

Pink Lemonade Boutique Bags
I have been trying to feature crafty blogs every entry and today is no
exception, really. Caroline at Pink Lemonade Boutique Bags handmakes
every bag she sells and they are

gorgeous

! One day I hope to be as
great of a seamstress as she is...*crosses fingers*

Check her out her goodies and tell her Barb the Craft Junkie sent ya!
============================================
FINALLY!!!
I have so wanted to work on my purse but one thing after another kept coming up and keeping me from getting any of it done all weekend.
Finally, today it was a quiet day. The hubby was gone to work, the oldest daughter was doing nursing clinicals in a town about 40 miles away and the grandboy was at daycare....ahhhhh, the house was mine, allllllllll mine!!! lol
Needless to say, I dove into my purse making....and actually completed it! WOO HOO!! I am so proud of it, too. (It's not Pink Lemonade quality but hey, a girl has gotta be proud of her accomplishments! lol)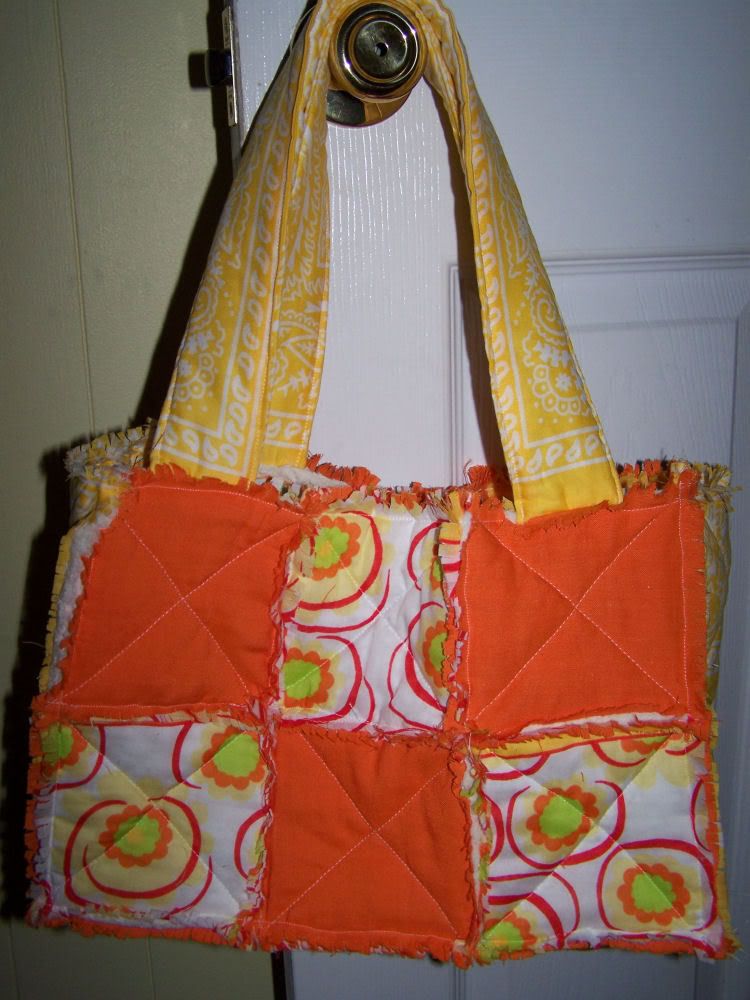 Here it is, pre-washing. From what I've read about the rag quilting meathod, you have to wash and dry it for the fraying to fluff up and have it look full and fluffy at the seams.
The straps are a little wider than I really wish I had made them but they're padded and sturdy, so they're not bad. I have no fabric store in our little podunk Alabama town so I used repurposed fabric (the orange) and two different bandanas that I got at the local Wally World (a whopping 94 cents each), and the batting is a thrift store 100% cotton mattress pad I paid 25 cents for then washed with bleach to sanitize.
All in all, I think I have a total of about $2.15 invested and maybe 3 hours time, off and on.
This purse was not hard to make, just time consuming since I had to make up the pattern and sewing idea as I went along...and time consuming because I spent so much time trying just to get the peace and quiet needed to concentrate in order to finish. But, at last, I have managed to get it completed.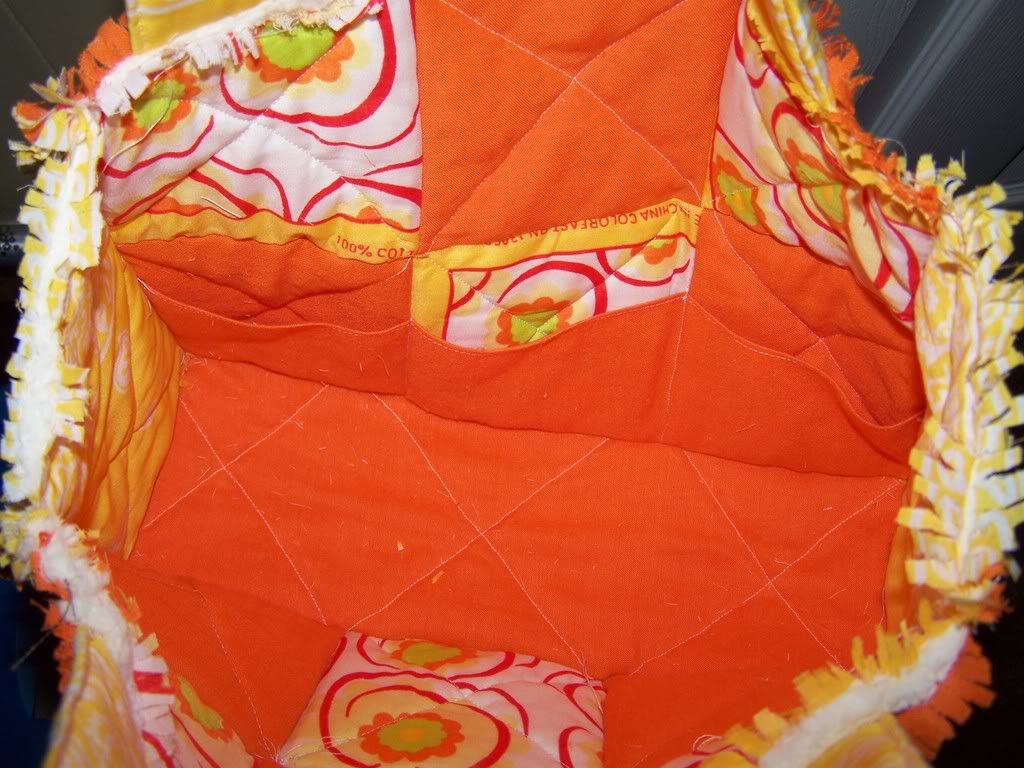 I even put 3 small pockets on the inside for keys, cell phone and other things that generally fall to the bottom of your purse.
It's very bright with the orange, yellow, white with a just a smidgen of red and a touch of green on the patterned pieces. I am very into orange right now so these just screamed out at me to make them into something....and there ya go.
I did the bottom (inside and out) out of one solid piece of orange fabric, and the sides are each (inside and out) out of a solid piece of fabric. The front and back are both blocks and the entire bag is quilted.
Here you can see the width of the strap and the side of the bag, definitely both areas are made from a yellow bandana, but it works, don't ya think?
It's been through the wash now and is doing it's time in the dryer so it should be good to go in about 40 minutes.
I loved making this one so much that I think I'm going to list it in my Etsy shop and start making another one in pinks and browns with some wonderful fabric scraps I got in the mail today from Caroline at her Etsy supply shop.
Brown and Pink, that'll make a yummy bag!
Oh, and maybe I should work on some jewelry, too.
So many crafts, so little time.