We have a large house (5 bedrooms and 3 bathrooms on two floors) and our oldest daughter, Savannah, is moving home in a couple of weeks so that we can help her with the grandboy, Noah, and financially while she finishes nursing school. Needless to say, my craft studio was situated downstairs...in what will be the Noah's room in a couple of weeks.
So, on Tuesday after finishing up with her semester finals, Savannah spent the entire day painting what will be her room downstairs with her best friend from nursing school, Keisha, while I moved my craft room stuff all upstairs. Whew! I didn't realize I had so much
stuff
. I must have made 30 trips up and down the stairs and was wiped out by the time I finished.
I think I'd rather have painted. lol
Anyway, I finally got everything situated in my new craft room, I actually got to use it for a little while yesterday. I'm really getting into jewelry making lately. As much as I know it's the latest "fad" in crafting, it is quite soothing to me to create something wearable and beautiful out of bits and pieces that someone else would probably never have put together the same way as I do.
I'm still learning the basics of wire working (and it's getting better but still not great) and hope to one day be able to make my own "findings" instead of paying out the butt for them here and there.
Here's one of my creations from yesterday...I like to call her "Ruby Red Lips":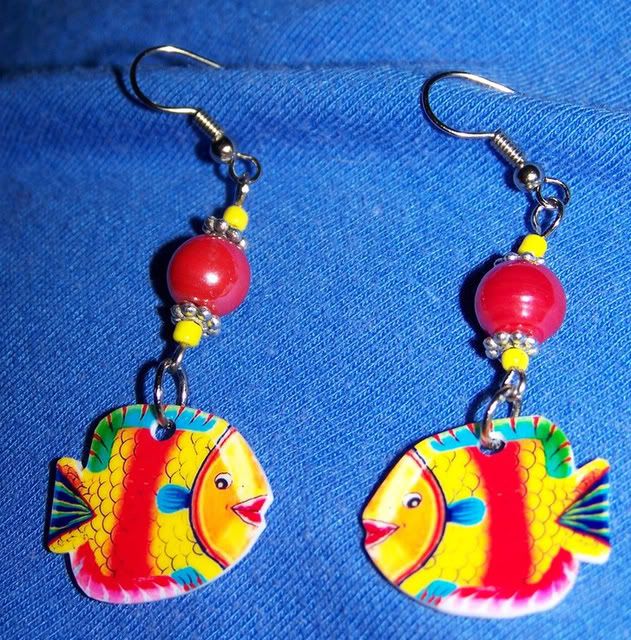 The red beads look kinda flat in the photo but they actually have a beautiful iridescent quality to them. Even though I'm not a fish person and really don't do rainbowish colors, I really do like these...I think they're my favorites.

For now. lol

Peace & Love,