Freezer paper stenciling is what got me back into doing crafts again. I've always had a crafty-artsy side but working full time, raising kids, keeping house, cooking, and all of the other things that life entails all seemed to get me away from my love of creating for years.

In February of this year I became ill (more ill than I already was with diabetes, panic/anxiety disorder and chronic depression) and I was taken off work for a while. Well, that "while" has lasted and lasted. I returned to the doctor yesterday and remain off work until, at least, June 10th...possibly later.

Anyway, the point of all of that was that having time on my hands and needing a way to feel productive got me back into the creative mode. I set up a craft studio in one of the empty bedrooms of our home and began with freezer paper stenciling on t-shirts and little sewing projects like washable menstrual pads (which I LOVE) and progressed from there.


I did these shirts a while back, when first becoming my old creative self, but thought I'd share them here.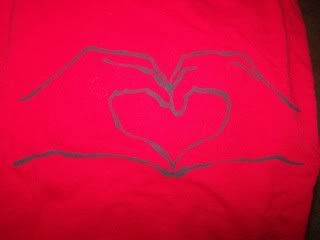 This one is a bit
different in that I cut the image out and ironed the image instead of the stencil onto the shirt and used a solution of 50% bleach/50% water and sprayed it over the image. After I had obtained almost the color I wanted, immersed the shirt in cold water and peeled the image off, leaving me with my tree shirt.
It is probably the one I get the most comments, kudos and questions about.
As always, if you have any questions or comments, please be sure to leave me a note.
I love sharing.
Peace & Love,